Passage.
December 31, 2020, 11:12 am
Filed under:
Art
,
Connections
,
Health
,
Pandemic
,
Society
,
Survival
| Tags:
art
,
coronavirus
,
Covid 19
,
health
,
pandemic
,
survival
So, I have an idea …

Yeah, usually that should be read with some trepidation.
This is an idea for an art installation, which would be intended for people to walk through to experience. One about what we've just lived through, and what we still don't know when will end. For now, it's a thought exercise, though I am giving serious consideration to how it could be practically accomplished. This is the general outline for the idea.
Picture a WW2 era naval mine. Like we've seen in countless submarine movies. Like this: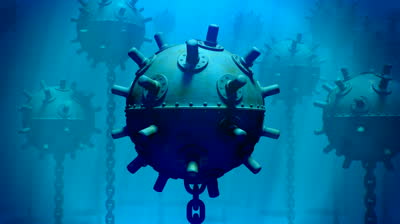 Remind you of anything?
How about this:
The installation would be set in a very long, narrow hall with low light. The floor would have dates marked on it, starting in January 2020, and progressing month by month until some time in 2021.
Tethered to the floor would be helium-filled balloons* at different heights. The balloons would look like the coronavirus particle. At first, there would be just a few, well scattered apart. But as you progressed through the hall, the number of balloons in a given 'month' would rise and fall, according to the waves of the coronavirus pandemic in terms of cases/deaths.
And as someone touched one of the balloons, they'd pop. Or flash. Or turn a different color. Or something like that to indicate that they had been touched. This would indicate to the viewer that they had just become a statistic of the pandemic.
The installation could be site-specific, reflecting the experience of a given country, or state, or city with the pandemic in terms of the numbers and timing of the waves.
That's the idea. If you have a venue, and would be interested in creating such a work, contact me.
Jim Downey

*it wouldn't need to be balloons, but could be solid plastic spheres or something, either on a free-standing stalk or positioned on a wire anchored between floor and ceiling.
Edited to expand: The more I think about this, the more practical I see it. I would set aside the idea of balloons, instead go to touch-sensitive LED lamp technology, and put that (probably with a sound element) inside semi-translucent plastic cast virus particles, positioned on a wire.
Customized Timberwolf G21
December 11, 2020, 4:48 pm
Filed under:
Uncategorized
| Tags:
.45 ACP
,
.45 Super
,
.460 Rowland
,
ballistics
,
BBTI
,
Glock
,
Glock 21
,
lasers
,
Lone Wolf
,
Timberwolf
,
Trijicon
[For some reason, Facebook is having problems with my ballistics blog being considered "spam". So while I would usually just post about this on that blog, I'm also posting it here. While it is about a handgun, it's also about some of the laser design stuff that I'm doing these days. Just ignore it if guns aren't of interest. Thanks.]
Some years back I got a Timberwolf frame for my Glock 17 from Lone Wolf Distributors. It was shortly after they were introduced, and I liked the idea of the 1911-style ergonomics. I was very happy with it, and only wished that they had one for the larger caliber Glocks.
But as such things go, I never got around to following up and getting one when I heard that they had developed a larger frame to accommodate 10mm and .45 caliber Glocks. But I had recently introduced a shooting buddy to the 9mm Timberwolf, and that reminded me to look into getting one for my G21 I have set up to handle .45 Super. This one:
And I was pleasantly surprised when I found out that one option when ordering the Timberwolf frame is to get it without any texture. The idea is that Lone Wolf offers some different laser-texture designs as upgrades. But since I have my own laser …
… I decided to do my own custom design. Not just for the Grip, but as something of a theme for the gun. I could have completely personalized it, but decided that I wanted to stick with something which might be of interest to someone else, should I ever decide to sell the gun. So I came up with a geometric motif I liked which I thought would give sufficient grip texture to handle the fairly powerful .45 Super loadings. So what follows are pics of the process:
I have already had a chance to shoot it with this configuration, and was really happy with the way it felt in my hand. The texture was fine, and I felt like it wouldn't slip around even if my hands were wet with sweat, etc.
And I'm very happy with the new Timberwolf frame's ergonomics and how it points more naturally for me. Glocks are good guns, but they have always felt a little awkward in my hands, requiring more attention for me to shoot consistently well. This has solved that issue.
Jim Downey
PS: No, I'm not available to do custom laser work. But you're welcome to see the full range of designs I do have available here: http://enlightened-art.com/index.html