Passage.
December 31, 2020, 11:12 am
Filed under:
Art
,
Connections
,
Health
,
Pandemic
,
Society
,
Survival
| Tags:
art
,
coronavirus
,
Covid 19
,
health
,
pandemic
,
survival
So, I have an idea …

Yeah, usually that should be read with some trepidation.
This is an idea for an art installation, which would be intended for people to walk through to experience. One about what we've just lived through, and what we still don't know when will end. For now, it's a thought exercise, though I am giving serious consideration to how it could be practically accomplished. This is the general outline for the idea.
Picture a WW2 era naval mine. Like we've seen in countless submarine movies. Like this: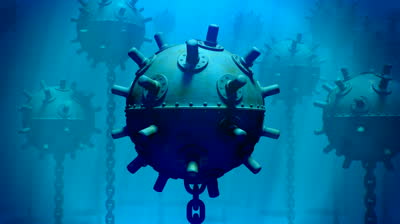 Remind you of anything?
How about this:
The installation would be set in a very long, narrow hall with low light. The floor would have dates marked on it, starting in January 2020, and progressing month by month until some time in 2021.
Tethered to the floor would be helium-filled balloons* at different heights. The balloons would look like the coronavirus particle. At first, there would be just a few, well scattered apart. But as you progressed through the hall, the number of balloons in a given 'month' would rise and fall, according to the waves of the coronavirus pandemic in terms of cases/deaths.
And as someone touched one of the balloons, they'd pop. Or flash. Or turn a different color. Or something like that to indicate that they had been touched. This would indicate to the viewer that they had just become a statistic of the pandemic.
The installation could be site-specific, reflecting the experience of a given country, or state, or city with the pandemic in terms of the numbers and timing of the waves.
That's the idea. If you have a venue, and would be interested in creating such a work, contact me.
Jim Downey

*it wouldn't need to be balloons, but could be solid plastic spheres or something, either on a free-standing stalk or positioned on a wire anchored between floor and ceiling.
Edited to expand: The more I think about this, the more practical I see it. I would set aside the idea of balloons, instead go to touch-sensitive LED lamp technology, and put that (probably with a sound element) inside semi-translucent plastic cast virus particles, positioned on a wire.